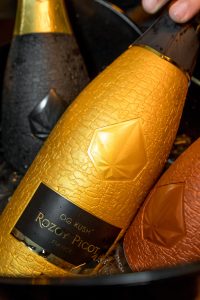 We are back with another exciting degustation of Rozoy Picot bubbly, or so called terpschamp, luxury sparkling wine infused with cannabis flavors. This time it was organized by Vino Royale Monte Carlo SARL in collaboration with "Before" Monaco in the heart of the Port Hercules. 
With almost 50 VIP guests, including media partners, influencers (Antoniya and Olga) and local restaurant owners and managers, the terrace of legendary bar lounge was really crowded! It was a place to be for networking, meeting new people and getting a great start of the evening with a glass of the best bubbly ever. And we are proud to be present now on the wine list of "Before"!
Some of the feedback that Natalia, the Director of Vino Royale Monte Carlo SARL, received after the event:
" Thank you so much for the beautiful night! Honestly speaking I am very surprised by the quality of the sparkling terschamp and the bottle, which is very classy! Bravo and wish you good luck!" Neda D., Monaco.
"I would like to thank you one more time for the invitation to this degustation. It was amazing: fantastic organization, unusual product (loved everything starting from taste and ending with quality packaging). Success is guaranteed!" Alina B., Nice
"I would like to thank you very much again for the degustation, which was really fantastic! I felt very good the following day and no headache at all. I've already recommended this product to my friends." Lilly, Monaco.